Family Planning Summit 2012: The Pledge
July 11th 2012, what a day in history! What a great step forward to reduce the inequalities between the sexes. Many facts came to light and now the world is aware of the situation and the plans to go forward. The Family Planning Summit 2012 hosted in London, really was a giant leap forward for mankind. The pledges made have the ability to change the futures of so many.
The central message mirrors my original statement in my previous article of the importance to include all stakeholders for ensurance of success. However at the end of it all, "Women are in the heart of it all, they are the core!"
We already know that by meeting contraceptive needs we can reduce maternal deaths in the developing world by a ⅓. There are such benefits by focussing on Family Planning, as it not only affects women, it affects the entire family, community, country. It affects health, education, economics. As our very own UK Prime Minister David Cameron stated, "a country cannot develop properly when its young women are dying from unintended pregnancy and when its children are dying in infancy."
Many countries have committed themselves to increase access to family planning and addressing the barriers women currently face. There has been acceptance that we must address religious and cultural barriers as well as the patriarchal society constraints that many women face when considering their reproductive health. I am glad that such issues have been acknowledged and addressed.
To summarise, $2.6 billion that has been pledged by donor countries, this includes $560 million by Bill and Melinda Gates and $800 million from the UK. This would mean $100 million each year, doubling our current annual investment in family planning.
Next I would like to explore how each country plans to execute their plans to achieve their aims, what frameworks will be used. I would like to see if reproductive rights are fully included in their plans. Lets hope that the Family Planning Summit truly does change the lives of millions and not get lost in the media storm it is currently involved in.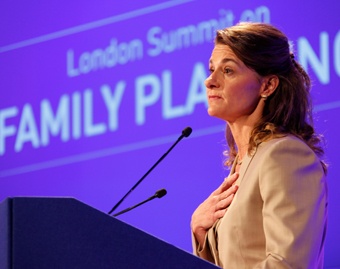 Many influential guests attended and spoke at the Summit and I couldn't possibly mention them all. The inspiring words spoken by Melinda Gates will be remembered by many. Her passion, her beliefs, her cause is shared by millions and together we all hope to, as Gandhi put it, "be the change we wish to see in the world." Lastly as Africa so perfectly put it, "No woman should die whilst giving life."
References: www.londonfamilyplanningsummit.co.uk, www.asap-asia.org